Executive Chef to Participate in L.E.A.F. Event
Feed your curiosity and support the community at "Savor: A Strolling Supper"
What's the deal?
Our Executive Chef, Kurt Wewer, will be one of the chefs participating in L.E.A.F.'s annual event, "Savor! A Strolling Supper." On August 5th, come out and savor fresh food, live music, and great company.
The Strolling Supper is a farm-to-fork meal where participants enjoy delicious small plates prepared by L.E.A.F. youth and local chefs. Each station has food that showcases a local farm's produce paired with a drink. This event introduces participants to local chefs, local farmers, and L.E.A.F. youth in an evening that supports the community!
On top of the great food, there will be live music and a silent auction. Enjoy a summer evening by supporting your local farms, chefs, and youth at "Savor! A Strolling Supper!"
What is L.E.A.F.?
L.E.A.F. stands for Leadership, Education, and Farming! The L.E.A.F. Project "cultivates young leaders through connecting them to the food they eat, the land on which it grows, and to each other." A huge part of L.E.A.F. is inspiring youth in the community, some of whom might become future chefs!

L.E.A.F. works with youth ages 14-18 for an entire summer to help them hone their skills in agriculture, food justice systems, cooking, and leadership. Participants work to develop essential life skills throughout the program by working with accomplished chefs, farmers, and local outreach groups.
How can you attend?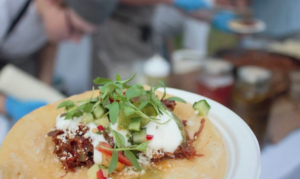 "Savor! A Strolling Supper" is August 5th from 5pm – 8pm at the L.E.A.F Farm. Join L.E.A.F. from 5pm – 6pm for a VIP Cocktail Hour and then from 6pm – 8pm for the general event. The main part of the evening costs $65 for general tickets and $85 for VIP tickets. VIP tickets include cocktail hour while general tickets do not. Purchase your tickets here!
Sponsorships are also available for the evening. There are several different levels and costs of sponsorships available, each with benefits. Being a sponsor for this event not only supports L.E.A.F., but also the chefs and local farms involved.
How can you help?
Sponsorship is a great way to help support the L.E.A.F. Project. Whether you want to contribute as an individual or work to get your company, organization, or group involved, L.E.A.F. has several different options available. Each sponsor helps support local youth and agriculture!
For more information about sponsorships, check out their website!