Garlic Poet Spring Menu 2017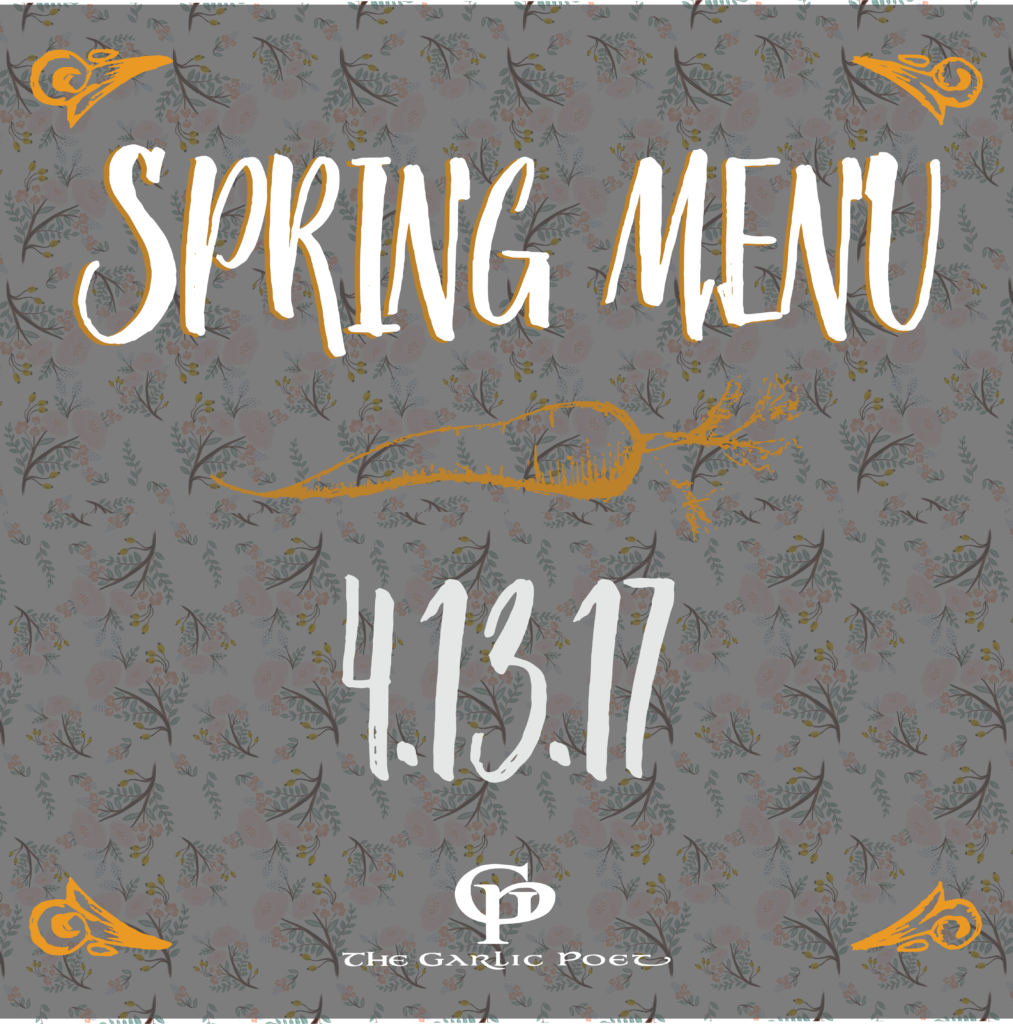 Spring has officially sprung and we're in full force to bring you The Garlic Poet Spring Menu. On Thursday, April 13 at 4 PM, you'll be able to try all of the fresh, local, unique, delicious dishes that you are used to. Get together with your friends and family and join us for one of our most exciting menu changes yet!
This season we'll have all new Introductions, Bowls & Greens, stanzas/POEMS, and Sweets & Treats just for you! Don't worry, we'll be keeping a few favorites as well.
Gluten-free? Vegetarian? Vegan? No need to worry about any dietary restrictions or allergies you may have. An abundance of our menu items can be prepared gluten-free, vegan, or vegetarian upon request. We will also have our Chef's Vegan Entrée for you to enjoy!
From the beginning we've been dedicated to sourcing all of our dishes the most responsible way we know how and this season is no different. From local creameries & farms to orchards & breweries our local purveyors have become a part of our extended family. Our Chefs work diligently to find the very best food and produce in our area.  We source from over 40 different local purveyors and use our very own aquaponic system in order to bring you high quality, responsible food. View our full list of local purveyors on our Extended Family page.
Think you know your wines?
For our Spring Menu we're putting your palate to the test. Join in on our 'blind' wine tasting and you could receive a free glass of wine or $3 off your glass!
1. Let us know you want to try the Blind Wine Taste Test and let us know if you prefer red or white wines!
2. We'll provide you with a glass of wine per your preference and a list of 5 wines.
3. Let us know which of the 5 wines you think you are drinking.
4. If you are right, you'll get your glass for free and if not, we'll give $3 off of your glass of wine for feeding your curiosity!
Here's are the new additions to our Spring Menu!!
INTRODUCTIONS
Squash Blossoms
house-made ricotta from FoxWood Run Farm's goat milk | hemp seed chimichurri | pea tendrils | gochugaru and shallot marinated ceci beans | pickled lotus root
Cauliflower
crispy cauliflower | marigold and grapefruit emulsion | smoked pearl onions | avocado purée | shaved radish | hearts of palm | purple carrot | culantro | parsley | sorrel | hemp seeds
Pork Gallette
malt roasted pork | Mycosymbiotic's mushrooms | brie cheese | parsley, fennel, and pickled shallot
Olive Oil Flatbread
cucumber dill ranch | Calicutt's Smoked Chili Salt
BOWLS & GREENS
Fresh Herb and Prosciutto
aquaponic greens | parsley, oregano, mint, and basil | duck prosciutto | grapefruit supremes | green tomato jam | toasted hazelnuts | Keswick Creamery's wallaby | black garlic vinaigrette
stanzas/POEMS
Poet House Ramen
kaffir lime and ginger duck broth | house kimchi | aquaponic culantro and basil | charred leek ash | purple carrot powder | medium-soft sous vide Silver Valley Farm goose egg | sweet corn | pea tendrils | chili ponzu | served under green tea smoke
Sweets & Treats
Fig & Rhubarb Galette
red wine fig marmalade | roasted rhubarb | lemon, lavender, and honey ice cream | jimmies
Weiser Orchard's Apple Cider Bombolini
soft, fresh fried donuts | warm chocolate-hazelnut sauce | toasted hazelnuts | white chocolate
Be sure to follow us on Facebook, Instagram, and Twitter to let us know what you're most excited for with our new Spring Menu!