New Summer Menu Coming July 6th
Get ready for our New Summer Menu, coming July 6th!
Nothing says summer like spending time with friends enjoying delightful food and cool, refreshing cocktails! Gardens are in full bloom, which means fresh fruits and vegetables you can't get any other time of the year! From ears of sweet corn to fresh cherry tomatoes to juicy peaches, summer food is what you want to have after a long, hot day. And don't forget about summertime favorites from the grill! Burgers, steaks, and grilled fish are just a few savory summer meals you can really sink your teeth into.
On July 6th, get ready for The Garlic Poet's new summer menu, hand picked from summer favorites!
What's even better about our summer menu is that we love to source our produce locally! This means we support local businesses and provide the highest quality food possible. Summertime is the best time of year to find luscious local produce, which is why we are so excited to share this amazing food with you. You don't want to miss out on this new menu, so hurry into The Garlic Poet while it's still in season!
Our 100 Days of Summer event is still going on! Make sure you check out the special offers we have for you each week this summer. During the first week of our new summer menu, get a FREE dessert with our Creative Poetry for Two! Have a #poeticsummer this year at The Garlic Poet!
Make sure you follow us on Facebook, Instagram, and Twitter to stay up to date on the latest from The Garlic Poet! We can't wait to see you this summer!
Check out one of the new items from our fresh summer menu!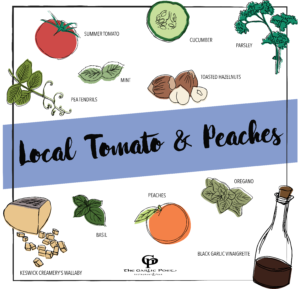 LOCAL TOMATO AND PEACHES
summer tomato | peaches | cucumber | pea tendrils | parsley, oregano, mint, and basil | toasted hazelnuts | Keswick Creamery's wallaby | black garlic vinaigrette